How many of y'all remember your 1st day of school?
Butterflies in your tummy?
Excited to meet your new teacher.
Get to use new school supplies.
It all gets better now!
How?
GLITTER SCHOOL SUPPLIES!
Okay we have to admit our guilty pleasure is
Did I hear you ask how we get our notebooks so
GLITTERY
?
All you need are compositions books
(Walgreen's special- large $.50 small $.15)
Glitter
Paint (if you don't have color glitter)
Tape the black strip with painters tape.
Paint cover of notebook with your favorite color.
(you can skip this step if you are using color glitter)
Let dry.
Paint cover with Mod Podge and sprinkle with
GLITTER.
(We don't have pictures, but I am sure you get the picture.)
Let dry.
Pull off painters tape.
Oops our tape wanted to stay on.
So we painted over with black paint.
Don't you want your girls to go to school this
HAPPY?
Now you have school supplies that have
SO MUCH GLITTER!
Some girls are just born with glitter in their veins.
Paris Hilton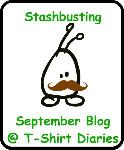 •